Tag Archives:
anderson cooper
I vote for the one that's chewing on the microphone!
Posted in

Blog, Humor, The Media, YouTube
Tagged

anderson cooper, Jon Stewart, kids, malia, obama, pet, puppies, puppy debate, sasha
2 Comments
Obama's speech at the Lansing Center in Lansing, MI on Monday brought out all of the big names. Among them, Kelly Bernero, former Students for Hillary Chair and now world-wide celebrity.
As Scott Launius told me, this photo was Anderson Cooper's "pic of the day," meaning Levin, Bernero, and that creepy dude over her shoulder got some major airtime and several hundred comments over at AC360 the blog.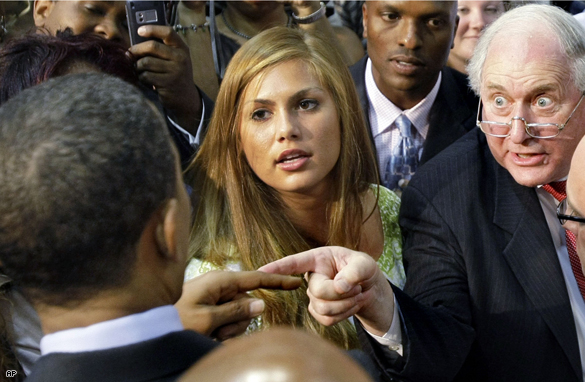 Caption This: What is Carl Levin saying to Barack? What is Kelly Bernero thinking at this moment?
Posted in

Blog, College Democrats, Domestic Affairs, Humor
Tagged

ac360, anderson cooper, angry carl levin, Barack Obama, barack obama pointing, Barack point, Carl Levin, carl levin angry, carl levin point, carl levin silly, carl levin ugly face, carl levin yell, east lansing, kelly bernero, Lansing, lansing center, michigan senator, virg bernero
9 Comments