Tag Archives:
CNBC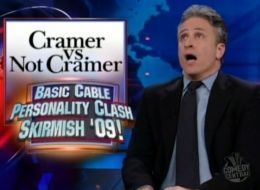 Feuds and How We Love Them
Have you been following Jon Stewart? Well, I have because what else am I supposed to be doing behind the Markley community center? It seems now that Stewart has escalated his feud with CNBC to a whole new level of awesome. But first, a review…
1) CNBC correspondent Rick Santelli explodes in an on-air tirade against President Obama… Ron Paul crazies across believe that CNBC is the second coming of Patrick Henry and promptly begin organizing "tea parties."
2) Jon Stewart decides all of this is malarkey. He cleverly puts together clips of CNBC analysts consistently getting it wrong on the economy… such as "Mad Money" host Jim Cramer SCREAMING that everyone should buy Bear Sterns days before it tanked.
3) Jim Cramer complains about Jon Stewart.
4) Jon Stewart responds with more video evidence of Jim Cramer consistently being wrong. Funny how TV anchors don't seem to get that the words they say on national TV are recorded and can be replayed.
5) Jim Cramer explains on The Today Show that Jon Stewart is merely a comedian who makes points by playing out-of-context clips followed by a funny face.
6) Jon Stewart once again destroys Cramer in a masterpiece of actual journalism. Additionally, we hear Dora the Explorer's opinion on the feud.
7) Cramer will appear on The Daily Show this Thursday – EPIC SHOWDOWN!!!!!!!!
The blogosphere has been ablaze with support of Stewart as he continues his campaign to reveal the irresponsible "journalism" CNBS practices on a daily basis. Stewart is not an economics expert, but his argument relies purely on the juxtaposition of CNBC's own words. It is sheer brilliance. Stewart has a penchant for putting on a serious face and grilling self-important media figures and this Thursday ought to be no different. This is all quite ironic since he really is just a comedian…